Needing a Cleanse
I had been going hard on the road for more than a month.  In the last 50 hours, I had commuted more than 30 hours on buses/ferries, as well as pulled an all-nighter at a mafia run bar called "Guys Bar" in Koh Phan Gan for my 30th birthday.   I had no more than 5-6 hours sleep in the last 3 days, and was running on fumes.  This seemed like an opportune time to take advantage of the many yoga/detox retreats on Koh Phan Gan! I called up a few places, and decided to try a combo detox/yoga retreat, how bad could it be?
I arrived to "Phangan Hualaem Resort" on May 31st at around 5:00pm and was rather lethargic.  Greeted by "Melanie Summerton" (The Detox Director) who quickly notices my fatigue and recommends to get as much sleep as possible for the upcoming fast.  She leads me to my bungalow and the first thing I notice is the breathtaking view of the ocean. 
Unfortunately, the serenity quickly fades starting 5:00pm every night as dance music blares from "Had Rin" about 1KM away.  Party Town! Party People!  Last thing I noticed is there were mosquitos EVERYWHERE! and unfortunately I'm NOT allowed to use deet-based products because it's 'not good for the detox'.  Thankfully there is a mosquito net in the room that mostly works.
Melanie hands me the a pamphlet which includes the timetable for the detox, as well a whole bunch of gobbledygook about how to keep ones stomach fire alive.  My brain can't comprehend most of it.  I crawl into bed and immediately pass out at 6:00PM and sleep right through the night.
Daily Detox Timetable

7:30 AM
Morning Cleansing practices including colonic
Detox herbs and supplements
9:30 AM
Asana Practice: Gudided Yoga and
Breath Work and Meditation
11:05 AM
Detox Shake
11:10 AM
Support Meeting
12:00 PM
Coconut Water
1:00 PM
2nd Detox Shake
Free time for meditation, reading, and journaling
3:30 PM
3rd Detox Shake
6:00 PM
Dinner of Vegetable Broth
7:00 PM
Herbal Tea
*The following is an unfiltered hour-by-hour log of the events and my thoughts/feelings while detoxing*
Day 1:
8:02 AM: I wake up after a 16-hour sleep.  I'm greeted by Melanie with a strange concoction of herbs.  I drink it and immediately regret joining the 5-day detox.
9:30AM: We do our first yoga/meditation practice.  It's a mixture of breathing and asana.  It's rather difficult to meditate because I'm being bitten by what feels like a hundred of mosquitos at once, but my mind prevails and I chant "ohm" in my head for a 10 minutes.  I'm only slightly distracted.
11:06PM: Melanie serves up first "Detox Shake".  I call it the "Bentonite Banger"—which is made up of a spoonful of Bentonite Clay, Psyllium Husk, and 8oz of water.
1:02PM: Downed another "Benonite Banger".  This cocktail is stiff (lots of clay in this bad boy) and it's gonna mess me up!
4:54 PM: I'm really tired.  Probably remnants from my 16-hour sleep last night.  Or it could be the fact that I haven't eaten since 1pm yesterday. Who knows… only thing I understand is that I'd KILL for a burger!
6:32 PM: About to take my first Enema;  Involves lying on the bathroom floor and shelving about 2 litres of water through what looks like an IV drip.

6:40PM: I think my colon is about to burst!
6:45 PM: I just shit a thousand storms.
7:01PM: Dinner time! And by dinner, I mean a bowl of steeped broccoli/ginger water! It tastes like it sounds! But I gobble it down based on pure hunger.
9:49PM: Watched "The Royal Tenenbaums".  I think I'm in love with Wes Anderson.
10:24PM: My stomach is grumbling a bunch.  I've also decided that since I'm no longer eating food, I no longer need to brush my teeth!
Day 2:
7:48PM: Ugh, I feel like absolute shit.
8:24AM: My breakfast consists of a shot glass of spirulina and 2 litres of coffee… up my butt.
8:48AM: Oh man… that was BRUTAL.  I'm about 4/10 right now.
11:23AM: Just completed an hour and a half of yoga and meditation.  During my meditation practice – my meditative thoughts would jump between my Mantra and McDoubles.  But I have to admit; I'm feeling pretty fresh.  Overall, a 7/10.
1:02PM: 2nd Bentonite Banger down the hatch.  It tastes like Metamucil if they sold a mud flavour.
1:32PM: So hungry! Watching "Planet Earth" and jealous of the lions eating the zebras.
2:37PM: I'm really tired and hungry.  Gonna try and nap.
3:00PM: Can't sleep.  Just looking at the ocean in a zombie like state.
4:24PM: Just had my 3rd Bentonite Banger of the day and feel like my body is starting to reject it! I'm not hungry! I'm exhausted, but cannot sleep!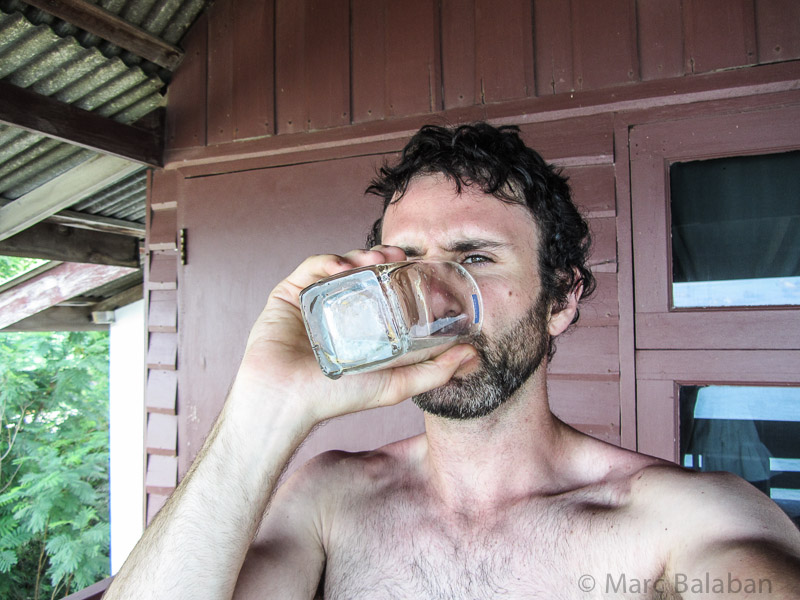 5:03PM: Lay in hammock reading "Into Thin Air" – An amazing book by the way.
6:21PM: ohhh man, that second enema did not go up well! Still figuring out this reverse butt tube.
8:02PM: I'm so exhausted.  Just lying in my sauna of a room trying to sleep.
Day 3
6:22AM: Walked outside in a daze.  Accidentally, stepped on a snake that that didn't seemed pleased.
7:37AM: Took an freezing cold shower.  At this point, I can't even give a fuck.  It's somewhat refreshing to be stripped of comforts.
8:04AM: Uhhh, more coffee up my butt?! Really? Hmmmm, okay, alright, lets do this!
8:42AM: Jesus that was rough.  Again, 2 litres of coffee in, and I'm pretty certain only 1 litre came out!  Feeling disheartened! Got real dizzy when standing up from the toilet.  Thought I was going to black out for a second.
11:06AM: Did my daily yoga meditation practice and I'm feeling mentally and physically refreshed.  I'm quite convinced there is something to this "Yoga" and "Meditation".
12:00PM: C-c-c-cocunut water time! This is definitely the best part of the day.  The only frustration is I'm not allowed to eat any of the flesh!
1:37PM: In really good spirits!  Only thing that's a bit negative is that I feel like I'm going to pass out every time I stand up.  Other than that, life is good!
2:01PM: I'm not hungry! How is this possible!!?
4:35PM: Took a Thai Schvitz.  Rubbed a salt concoction all over my body – massive cleanse! I feel so refreshed right now!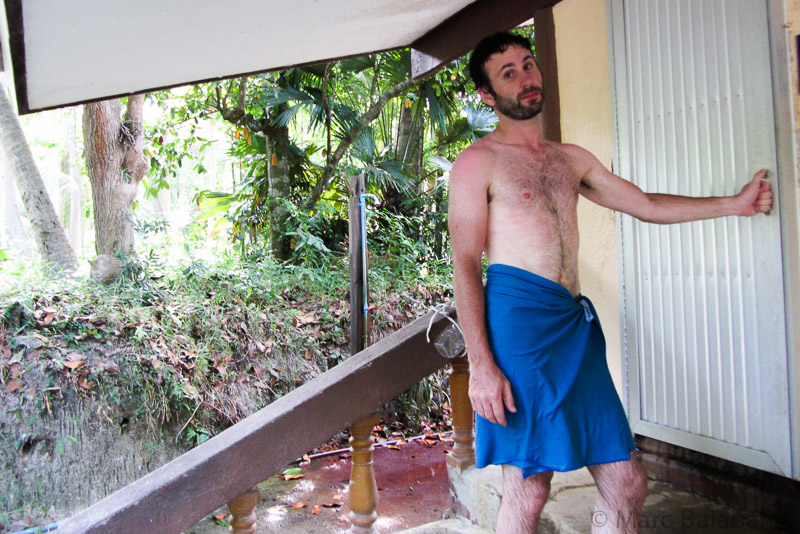 6:10 PM: Colon cleanse again.  I haven't been doing too well with these, so I try a new technique.  The knee-chest position.  Ultimately, it sucked.  But I was belting "Darkside of the moon" while treating myself which was kind of distracting to the harsh reality of the situation.
6:35 PM: Someone asked me if I was singing while doing my enema.  I proudly said "yes".
6:51 PM: More of that delicious broccoli/ginger "soup".  It's more like a giant bowl of tea that you eat with a spoon.  This time it's very gingery.
8:30 PM: Oh my goodness! I'm heading to bed! I'm now going to sleep at before 9pm, and waking up at 6am.  This detox has aged me 30 years!
9:33PM: Watched the first 45 minutes of "Flight" with Denzel Washington – pretty good movie so far.   Falling asleep while watching it…
Day 4
5:35AM: As I wake up, EVERYTHING is sore! The beds here suck! As do the sheets!! I never thought I could have such distain for bedspread.
7:02AM: Finished watching the movie "Flight".  What a piece of shit.
8:12AM: More coffee enema! I'm almost positive that my colon absorbed 60% of the liquid.  After some research, I found that it's possible to absorb fluids via the colon.
9:28AM: Time for Yoga/Meditation!
11:11AM:  So good! If there is one thing I take away from this experience.  It's that Yoga/Meditation almost always brightens my mood – and although I've been doing it for years, it's odd that I so easily forget to practice.
2:18PM:  Went into town and had a Thai Massage.  All my back pain has subsided after this 120 pound woman made two massive adjustments.  Why pay a chiropractor $70 per adjustment when you can pay a Thai Masseuse $10 for several adjustments that also includes a lengthy massage.
3:15PM: Walking around town, there is SO MUCH FOOD!  Although I'm not physically hungry – the smells of fried chicken and curry hurt me so bad!
5:24PM: I'm real sad.  When I get sad, I notice I want to focus on work and making money.  So much introspection…
6:21PM: Really not feeling well at all.  3/10
7:23PM: Could not expressing myself be a problem? Should I be more assertive with my needs or lack-there of?!?
8:01PM: I think I'm going insane!
8:32PM: Oh shit, I feel bad.  Like really bad.   Going to sleep.
Day 5
6:01AM: Woke up feeling pretty decently.  I must have urinated 6 times during the night.
7:54AM: Watched a beautiful sunrise.  My overall mood is positive, but still feeling sluggish.
8:23AM: FINISHED WITH COFFEE ENEMAS, THANK GOD!
11:23AM: Did an hour and half of Ashtanga yoga.  Goodness me, I'm broken.  I couldn't do many of the poses.  I still feel pretty good.  During Shivasana, I was saying to myself "I love life, I love myself".
1:21PM:  Struggling to put on my underwear.  I'm pretty weak right now.  I don't think I'm giving it 110%.
2:24PM: Wandered into town once again.
3:25PM: HOLY SHIT! I just weighed myself and I lost 10 pounds in 5 days!
4:02PM: Last Bentonite Banger! 15th down the hatch!
5:18PM: I feel amazing right now, so energetic!! Like I could do 50 laps around Had Rin. Where did this burst of energy come from!?
5:25PM: About to do my second last enema, not looking forward to this.
6:33PM: Enema worked out! I'm feeling amazing right now. Like 10/10!
7:03PM: Drinking liver cleanse, it's very spicy (and delicious)!!
8:35PM: Oh no, the liver cleanse really upset my stomach! Fuck, I feel awful.  Disgusting burps!  It's insane how mood swingy I have been over the last week.
9:38PM: Feeling slightly better — although my stomach is a bit like a washing machine. 
10:01PM: Took a walk to Had Rin to see some of the night life – I was walking like I was Drunk! Definitely fit in with the rest of the peeps on the island.
Day 6 (130+ hours without food)
6:41AM: Feeling rough.  My back and throat is incredibly sore.   Looking forward for change of location and EATING FOOD!
7:38AM: Downed an acidophilus drink to replenish my gut flora.
7:45AM: Finished the jug of water I was given at the beginning of the cleanse.  It's gotta be at least 14 litres!
8:00AM: Finished last enema! I'm so glad it's over.
8:24AM: Oh boy, here comes the food!
8:48AM: The food is coming any minute now!
9:10AM: Food…Food… it's coming!
9:39AM: Ate my first meal in 5 and a half days which consisted of Papaya and.. that's all.  I forgot how to chew for the first few bites – but my animal instincts quickly kicked in.
10:01AM: I really missed food.
Conclusion for detox:
After my Detox, I jumped on a ferry and headed straight to Koh Tao.  I was slightly delirious and scarfed down fresh mangos and watermelon.  It was striking how foreign it felt to have food in my mouth.
Over the last week, my emotional stability was nothing less than volatile.  When I felt down – I craved food, even if I lacked hunger.  I became aware how coddling food can be.  The cravings weren't from hunger, it was the affection I longed from a Hershey Kiss.  My body didn't need it, my mind did.  I realized that the detox was less about removing toxins from the body, and more about relaxing the mind.
Whether or not toxins were purged from my body is irrelevant at this point.  Food fasting was an eye-opening experience that tested my ability to cope with difficult situations.  I felt empowered knowing that my body/mind could survive 130+ hours without food.  I refused to cover up my frustrations, fears, and sadness with a bucket of fried chicken.  Food fasting is a great meditative/minimalistic process to go through, and if you can learn to hold your tongue – it's something worthwhile to explore.

One-week follow-up: June 14th, 2014
I must admit that this detox has been very good for me.   I'm much more aware of the food/body connection.  I eat a lot slower and feel this incessant need to eat well.  Most of all, I have a greater respect for food.   I'm conscious when I eat and try and avoid other activities such as computer and watching television.  I feel thankful every time I put a piece of food in my mouth, and simply feel more connected to my body.